Equipment Sharing: Reusing, Recycling and Rehoming Equipment
Jane Miller, Administrator, Division of Anaesthesia, Addenbrookes Hospital
November 1, 2021
I am the Administrator within the Division of Anaesthesia which is part of the Dept of Medicine which in turn is part of the School of Clinical Medicine (University of Cambridge).  We are in embedded office accommodation in Addenbrookes Hospital and we have enjoyed a long-standing relationship with Cambridge University Hospitals NHS Trust through visiting researchers, Specialist NHS training and our own clinicians and University lecturers and students. In the past we have recycled lab equipment that was not being used by donating to other University Departments and research labs. Years ago you just asked around to find homes for equipment not needed. Now it is made easy and when we wanted to rehome a Bruker EPR Analyzer we were pointed in the direction of the equipment sharing project.
Aware that the equipment sharing project supports not only equipment acquisition and sharing of resources, we were told it offered support in reusing and rehoming operable equipment within the institution.
Initially I contacted the project coordinator who was kind enough to explain the support and resources available. There is an expectation that such equipment will be made available within the institution in the first instance, although it can also be offered, philanthropically, as a gift or donation to a number of international organisations.
We decided to exhaust the local options first and the item was listed on the University's 'Science Purchasing' and 'All Company' Yammer platforms to ensure awareness across the University, while Christopher also tweeted publicly via the project's twitter account and reached out directly to Makespace and BioMakespace who aim to refurbish equipment for local use.
The item was then listed on the University's Warpit account. Warpit is a free online tool for exchanging furniture, equipment, and other resources between university departments in order to reduce unnecessary procurement, reduce waste, save time on purchasing and disposal, and to free up space. An additional option is UniGreenScheme who are an asset resale service endorsed by the institution.
The listing remained active on Warpit for three weeks before we made contact with UGS, who happened to be in Cambridge collecting equipment from the Department of Chemistry. UGS were happy to add the item to their collection and collected it later that day.
"Thank you, you made it easy. Now we just have the space under the bench in our CAT2 lab to clean up!"
For more information on recycling and reusing equipment, please visit:
https://www.equipment-sharing.cam.ac.uk/disposal-and-recycling-equipment
Equipment Sharing: Another Year in Review
Christopher Wilkinson, Equipment Sharing Platform Manager, University of Cambridge. 
May 17, 2021
Understandably the last 12 months has seen a decrease in traffic to the database and public pages due to the lockdowns and restrictions on access to equipment reducing demand in some areas. However, a lot continues to happen behind the scenes and we're now in the process of approving an additional 900 Individual Items of Equipment to be listed on the database and a further 70 Small Research Facilities which is a 25% and 50% increase respectively.
Project-wise, the database as a platform and piece of infrastructure continues to form a pivotal part of strategic equipment funding bids and is referenced in numerous equipment funding applications to UKRI and other funding bodies. This year we've been involved in successful applications to the EPSRC's Core Equipment fund totalling over £1,680,200 and provided input into a multi-partner £3M funding application for the AHRC's Capability for Collections Infrastructure Award. 
The latter award supports the Heritage Science Hub – a research and collection programme led by the Fitzwilliam Museum's Senior Research Scientist Dr Paola Ricciardi involving the Fitzwilliam Museum, the Hamilton Kerr Institute, the McDonald Institute, and the University Library. The hub will facilitate the development of partnerships and collaborative projects and lead to embedding partnership-focused working in the area of Archaeological and Heritage Science across a number of institutions, including the Cambridge University Library, other University of Cambridge Museums and the Department of History of Art.
Remember to get in touch if you're writing an equipment grant proposal. Funders increasingly expect to see that processes are in place to maximise the use of funded equipment and the database provides the necessary infrastructure to accomplish this. Contact us for details of the processes in place and information on existing equipment to include in your proposal: equipment_sharing@admin.cam.ac.uk 
Need inspiration? Follow @cam_equip on Twitter for news and funding opportunities.
As an Operational Lead on the University's Recovery Programme, much of my time is now taken up with work streams on the Recovery Task Force and West Cambridge developments, looking at infrastructure for equipment booking and management, and I've worked with numerous suppliers who are leading the way in providing guidance on both restricting and reopening access to core equipment. There are also plans afoot to revamp and revise aspects of the equipment sharing platform itself, which is incredibly exciting.
I'm also delighted to announce that the Cambridge COVID19 Test Centre recently celebrated processing over 3.25M tests in a little over 12 months. You'll recall that this was a multi-partner collaboration between the University of Cambridge, GSK and AstraZeneca that relied on the database in the initial stages of its creation to ensure the centre possessed sufficient quantities of equipment and consumables to make it operational in May last year. You can read more about that particular story below. 
---
Using an Equipment Sharing Database to tackle COVID-19 
Christopher Wilkinson, Equipment Sharing Platform Manager, University of Cambridge. 
April 25, 2020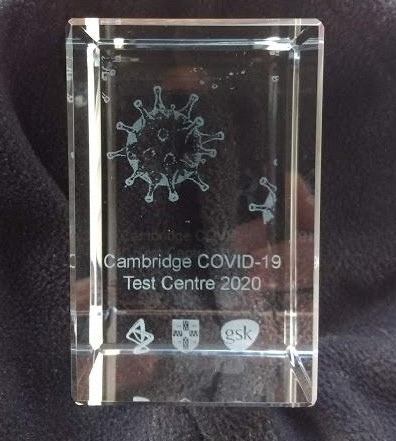 The equipment database was developed in 2012 as a response to changes proposed by RCUK to the way that equipment on research grants would be funded and expectations of improved efficiencies in the use of equipment and in particular increased shared usage. However, when the call came to respond to the pandemic, it delivered.
Typically we use it as a central platform to help researchers find equipment and facilities available for sharing, encourage internal, national, and international research collaboration, increase the exposure of facilities that can be used to recover equipment costs, highlight the University's commitment to share equipment (beneficial when grant applications are under consideration) and as a way to indirectly contribute toward waste reduction, reduced consumption, recycling, and carbon profiling.
The equipment database provides members of staff and students across the University with details of over 3400 individual items of equipment and more than 70 existing Small Research Facilities, as well as funding support and news via the publicly accessible website that operates in parallel. To date, 12,682 users have viewed a total of 129,906 pages and I used the database much like anyone would; searching for equipment and creating lists of primary contacts with whom to connect.
When the UK was gripped by the first wave of the COVID-19 tsunami, as someone who oversees the database as the Equipment Sharing Project Manager, I was tasked with speaking directly to laboratory and equipment managers to see how we could support the Government's rapidly developing COVID-19 Test Facility in Milton Keynes to help ensure they had sufficient quantities of reagents and equipment to meet their 100,000 daily testing target by the end of April.
Whilst nucleic acid extraction instruments are not the most commonly occurring items on the database, I was able to determine what relevant equipment was available in the University and to identify and reach out to 130 members of that community.
Thank you so much...that is incredibly helpful to reach so many people...and great to know such a productive exchange is taking place
– Catherine Hasted, Head of Business Partnerships, University of Cambridge
Researchers at the University had created a Slack Workspace to promote discussions and ideas on different topics related to the pandemic, and the University also implemented its COVID-19 response channel to gain central oversight of all the efforts across the institution. Working with colleagues across the university, I was able to coordinate offers of equipment and liaise directly with Randox Biosciences; the manufacturers of a test evaluated by Public Health England, selected by the Government as a key site in the UK for COVID-19 testing.
At this time the scarcity of PPE locally and nationally was becoming apparent. Whilst there was a separate PPE thread on the slack workspace, another Cambridge institution was pulling together. I am friends with a cohort of the Institute for Manufacturing's Industrial Systems, Manufacture and Management degree (ISMM44), and cohort members based in China reached out to offer assistance in sourcing PPE equipment. I also posted an update on LinkedIn which prompted a reply from a former IfM colleague who had contacts in China and I was able to feed this information into the developing thread on the slack workspace.
Then the local response stepped up a notch. PVC for Research Professor Chris Abell has been instrumental in the development of the Cambridge Screening Centre; a collaboration between the University, GSK and Astra Zeneca to provide screening facilities for the NHS. I was again tasked with locating relevant equipment to help it become functionally operational. Within four days (and over the Easter Weekend, I hasten to add) the offers of equipment exceeded our original request, allowing us to develop contingency plans for back-up equipment should the need arise, as well as additional expertise to train users.
To witness the support and collaborative efforts of people pulling together has been truly awe-inspiring. Internally, it's been a great opportunity to utilise the intrinsic power of the database and work with colleagues across departments, institutions, and external organisations. It's also extended my ability to liaise and be involved with both national and local coordinated responses and the database has proved itself as a pivotal tool, resource, and platform toward this endeavour.
Outstanding
– Chris Abell, Pro-Vice-Chancellor for Research, University of Cambridge
And a further note of thanks to all involved across the University from Professor Stephen Toope, Vice-Chancellor –
"Work continues apace to set up the large-scale testing facility on our Biomedical Campus. Colleagues have been extremely busy recruiting the staff and collecting the equipment needed for the facility to work. We are all infinitely grateful to the people who have donated scientific equipment, and to the people who have volunteered to work in the testing centre – including senior academics, post-doctoral researchers, research assistants, lab managers and technicians. In this, as in so much else, the Cambridge community has stepped up remarkably to the challenge we all face together. I thank everyone involved"
Department for Health and Social Care response to the call for testing equipment: DHSC and partners - Testing call
---
Lab Equipment Re-Use and Re-Sale: UniGreenScheme 
Mike Mcleod, Co-Founder and Managing Director, UGS. 
April 20, 2019
A common problem across the sector and at the University of Cambridge is that unwanted and outdated research equipment can accumulate in laboratories and facilities. Whilst this equipment is potentially valuable, re-use options can be limited, especially when research equipment is disposed of as waste. To help tackle this issue, the University's environmental team launched a pilot trial of the UniGreenScheme equipment resale service in February 2018. 
We collect, store and sell surplus equipment for universities and return a share of the profits from sales to the department. We were awarded the winner of the EAUC Green Gown Award - Facilities and Services category with the University of Birmingham in 2017, and have prevented over 200,000kg of equipment waste across the UK since 2016.
The results so far at the University of Cambridge are very promising, with over 1.400kg of equipment diverted from waste disposal into re-use so far. The University has received £4,500 from sales, and saved a further £5,000 in time-saving and avoided disposal costs.
Furthermore, the external research sector has saved an estimated £30,000 by buying second-hand equipment sold by the University of Cambridge through UniGreenScheme, versus buying new equivalents. These figures are significant, not least because only 18% of the stock collected has been sold to date; these figures will continue to rise as more equipment is resold.
The equipment collected from Cambridge so far includes old incubators, water baths, vacuum pumps, animal transfer stations, physiology and cardiology equipment, vacuum chambers, power supplies, and much more. The University is also engaging with purchasing second hand-equipment. For example, the Cambridge Biomedical Campus recently purchased a used Leica Inverted Research Microscope from UniGreenScheme for the facility.
To find out how to sell your used equipment or purchase second-hand material, get in touch with UniGreenScheme on info@unigreenscheme.co.uk
---
Equipment Sharing: A Year in Review
Christopher Wilkinson, Equipment Sharing Platform Manager, University of Cambridge. 
January 25, 2018
2018 was an exceptional year for Equipment Sharing! We witnessed over 2,300 staff and student visitors to the database (a 66% increase in comparison to 2017 when oversight of the project was unsecured), and 1189 visitors (a 62% increase in traffic) to the publicly accessible webpage.
The database is regularly used by students and researchers to determine equipment available within the University whilst planning research projects, and this facilitates Cambridge continuing to perform the most ground-breaking, impactive, and effective, research for which it is renowned.
2018 also saw Cambridge renew its collaboration with the Science and Engineering South (SES) regional equipment sharing consortium; something that is fundamental to progress in the sector and a reflection of the University's commitment to the project both internally and externally.
In order to leverage better investment and value for money, the creation of various user groups has been well supported and appreciated by over 21 Core Lab Managers across 19 Departments who seek improved return on investment. Securing Central Procurement's and Finance's input to widen coverage of equipment and reduce cost has been crucial, and the relationships with external suppliers over the course of the year was strengthened.
On a personal level, I was delighted to co-author a successful application to the EPSRC that resulted in the University securing £250,000 for our Early Career Researchers to use to purchase new equipment.
We now have 3365 individual items of equipment and over 70 small research facilities listed on the database. These items are accessible to all staff and students within the University for current and future projects and, more widely, external users are able to access a substantial amount of these via the National Equipment Portal. This allows Cambridge to share at a local, national and international level.
One of the highlights of my year was to receive the following email from a current PhD student who, with our help, had secured access to a specific piece of equipment. Not only does this reinforce the value of the project, it also highlights exactly how it provides a platform for the creation of new internal collaborations, this time between the Departments of Psychiatry and Engineering.
"Just wanted to say a massive thank you for successfully finding us a HoloLens. It is good to know that many people are open to sharing around their equipment and I hope this becomes more widespread across departments. I will definitely recommend my friends to you as I think it's a brilliant thing you do for people. It really saved us from going out and buying our own HoloLens which is very pricey. Again many thanks for all your help!" 
---
Equipment Sharing: A User's Perspective
Dr Ewa Marek, Department of Engineering, University of Cambridge. 
December 14, 2018
I work as a Post-Doctoral Research Associate (PDRA) at the Department of Engineering at the University of Cambridge, investigating non-catalytic and catalytic oxidation reactions, mostly for energy-related applications. When I started, four years ago, my main project was focused on solid fuel gasification and combustion in a chemical looping setup using fluidised beds. This is a new technology where oxygen for reactions is provided from solids, mostly metal oxides, instead of air. The elimination of air produces flue gas consisting of CO2 and water only; hence the technology is ideal for easy CO2 capture. The crucial bit in this process involves solid oxygen carriers, which after donating oxygen, need to be regenerated, closing the chemical loop. To reduce the potential cost of this technology, the best oxygen carriers should be cheap and abundant; a good example would be ores containing iron oxide. In my research, I was using natural iron ore from Norway, and my results showed that the rate of gasification of solid chars significantly increases when the reaction takes place in the presence of the ore. This was likely caused by the oxygen donation from the metal oxide; alternatively, some other components in the ore could have worked as a catalyst. To rule out the latter, I needed to find the actual composition of the ore, ideally performing an X-ray fluorescence (XRF) analysis, as this is a non-destructive technique that gives an elemental composition of materials.
Unfortunately, my group does not have any XRF machines. I was advised by a colleague working in the same group to have a look at what is available online on the Equipment Database.
This was straightforward, and I found what I was looking for right away. 
Besides the information about the capabilities of the XRF scanner, the database entry provided the email address and telephone number of the person to contact, in this case, Simon Crowhurst from the Department of Earth Sciences. I emailed Simon asking about the possibility of accessing the equipment, and his reply was very helpful and informative. He also kindly agreed to run an analysis for me and to help me interpret the results. I brought my sample, and we ran the analysis and interpreted the results in one meeting. I guess, even if I had easier access to the XRF scanner (if it was in my department or group), this might not have gone so smoothly. Simon's help was invaluable. 
XRF results showed trace amounts of Cu (Copper) and Sn (Tin) in my material; both in a quantity that was too insignificant to contribute to the reaction. I have published this research in a paper titled Enhancement of char gasification in CO2 during chemical looping combustion in the Chemical Engineering Journal. This was quite an adventure, and I am proud of this work. Thanks to Simon's help, I got unambiguous answers and was able to focus on the leading theory presented in the paper. 
I have used the Equipment Database website many times since. I have contacted responsible persons with the details provided on the website and ~95% of the time I always received a friendly and positive answer. Even when my emails went unanswered, I was usually able to find another facility close by or in another department. 
I believe that sharing research facilities is extremely helpful for researchers, as it opens up possibilities to move forward with research ideas, even without an all-contained laboratory of your own.
Further Research and Publications
---
Booker: The University Equipment and Room Booking Service
Rob Smith, University Information Systems, University of Cambridge. 
October 2, 2018
Booker is primarily designed to permit the booking of rooms across the University and has been rolled out across 35 departments with 3500 registered users to date. It offers comprehensive information about each room, including photos, a simple visual layout, easy searching by date, type of room, and location, and provides customisable options for room managers. It is an incredibly user-friendly and versatile system allowing immediate room booking with the functionally to search for 'rooms near me' via an integrated 'google maps' feature. There is an ongoing pilot that extends to equipment within the Department of Material Science and Metallurgy. If the feedback is as positive as expected, this will be rolled out across the wider academic community at Cambridge over the coming months. Crucially, the system is available at no cost to staff or users.
Following a survey of equipment managers by the equipment sharing project, it became clear that pooling resources to cover the costs of an off-the-shelf booking system held less appeal for individual item of equipment (IIoE) managers, in contrast to Small Research Facility (SRF) and larger equipment managers. IIoE managers tend to use simple solutions – diaries and google calendars to book equipment and monitor use, favouring costs in the region of pounds rather than the thousands that all-encompassing, off-the-shelf systems such as PPMS Stratocore and Calpendo cost.
Booker is available to all staff and students via Raven authentication, and the intention is that it will be a 'one stop shop' for booking rooms, equipment, vehicles, bikes, laptops, and other resources throughout the University. Although it doesn't currently offer financial system integration (often a prerequisite for managers of larger clusters of equipment), it will be a distinct improvement for the majority of IIoE managers. Further, it has the capability to produce usage/booking reports that can be processed locally by finance departments to authorise invoicing to internal and external users.
This initiative supports the aims set out by Professor Graham Virgo, Pro-Vice-Chancellor for Education, who recognises that high-quality, accessible teaching and learning spaces are vital to our endeavour as a world-class university. Facilities that are attractive and fit for purpose help us to attract the best students and academics from across the world, and encourage the encounters between people and across disciplines that are necessary for world-class learning and research.
Addendum by Christopher Wilkinson, Equipment Sharing Project Manager -
"I think this is a terrific step forward and am looking forward to working with both Event Map and UIS on the roll-out and development of the Booker system. Whilst I will continue to work with the SRF Managers and particularly the Stratocore User Group to explore widening the quantity of larger equipment covered, the expansion of the Booker system to cover equipment booking will reduce the immediate administrative burden for IIoE managers, and the zero cost will, I'm sure, be favourable to all."
You can read more about the room booking service here: https://www.educationspace.cam.ac.uk/room-booking/about-booker
To request the service or book a demo please contact the Room Booking team via email: roombookingsystem@uis.cam.ac.uk
With an account set up, you can access Booker here: https://booker.eventmapsolutions.com/Account/Login
---
Equipment Sharing: an Academic Perspective
Katherine Stott, Department of Biochemistry, University of Cambridge. 
www.biophysics.bioc.cam.ac.uk/ 
August 1, 2018
I manage the Biophysics Facility in the Department of Biochemistry at the University of Cambridge. We provide fully open-access equipment and expertise to many groups from most departments in the School of Biological Sciences and beyond, providing access to cutting-edge equipment for a wide range of research projects. We established our facility in 2011 in order to reconcile the various pieces of equipment that were distributed around the PI-led laboratories in the Department, many of which were poorly-maintained and the rest served by busy research staff with little time to train users or troubleshoot others' experiments. At the same time a robust financial model was set up to ensure long-term sustainability of instruments and staff via cost-recovery.
The benfits of moving to a shared facility format have been manyfold: a wide range of complementary techniques is available in a straightforward and cost-effective manner, there is continuity of expertise, a high level if technical support and maintenance, and fair and open administration of bookings.
The instruments are also used much more effectively with some previously dormant instruments operating over 200 days per year after the move to the facility. A hands-on approach is encouraged in almost all circumstances and after training users join a community of > 100 experienced users who share and disseminate their knowledge of methodology and best-practice both informally and formally in instrument "user days" or in some special cases by becoming an expert user/deputy instrument manager. Over the last seven years, an energetic and thriving research community has grown up within and around the facility, with enormous positive impact on the students and postdocs who receive high-quality training and go on to share their experiences, and on the success of our research programmes university-wide.
Looking forward, we wish to utilise our strength in numbers and successful sharing model to make maximum use of our equipment (most of which is too expensive for individual labs to purchase and support) and leverage funding for new platforms as required. In the current financial climate it is essential that the funding bodies perceive that they are getting value for money when they fund new equipment. Key to this is an awareness of what is already available locally, and also the means to demonstrate that new equipment will have a wide user base. Cambridge University is an organisation consisting of many departments, often with little communication between them, despite their common aims and often highly overlapping research needs. We use the Cambridge Equipment Database both to advertise our own and to source complementary equipment, and also to redirect others when we can't fulfil their needs. This centrally managed, searchable and slick tool is vital to overcoming these obstacles.
---
Equipment Sharing: an Industrial Perspective
Mark Portsmouth, Discovery Analytical Consulting Ltd., Cambridge. 
www.discoveryanalyticalconsulting.com
June 12, 2018
In Drug Discovery, Open Access LC/MS systems for reaction monitoring and compound QC have been the norm for around 20 years to support Medicinal Chemists.  Similarly, for structural elucidation, open access to NMR machines for the faster, routine techniques is provided during core hours with more specialised techniques requiring greater instrument time being deferred to an overnight queue.  Latterly, many companies have moved HPLC purification onto an OA platform especially where mass spec – directed technology is taken advantage of.  In all cases, Chemists don't require great knowledge of the software as they simply log-in their samples via a simple interface.  They can also see the status of individual instruments and queue lengths via the company intranet. Data is generally returned via email and can be opened in an appropriate browser or 3rd party platform-independent software package. Systems may either be located in Chemistry Labs or in a central Analytical facility.  Even if the latter, in one large pharma company, Chemists still don't need to leave their laboratory as samples are delivered around the building via a pneumatically driven network of tubing directly into the instrument selected by the system. Busy ADME (in vitro Absorption, Distribution, Metabolism and Excretion) or DMPK (in vivo Drug Metabolism and Pharmacokinetics) Departments may also see the efficiencies that can be gained by making LC/MS/MS (Triple Quad or Q-ToF instruments) available in a similar fashion.  For chiral separations, the industry standard technique for analysis and purification is Supercritical Fluid Chromatography (SFC), although here there is greater reluctance to go the same way while reliability concerns remain, largely around CO2 delivery.
Clearly, most of the foregoing only really applies to single organisations above a certain size. Smaller organisations, however, may benefit from the availability of communal equipment if they are located in one of several Science Parks or Incubators that are increasingly making such facilities available in the UK.  For example, at BioHub Alderley Park, analytical equipment including HPLC, MS and NMR (700 and 500MHz) is available while at BioCity, Nottingham, in addition to MS and NMR, there is more mundane equipment available such as rotary evaporators and centrifuges.  Open Access software may be used to track sample numbers for billing purposes. Finally, to illustrate that it is not just analytical or chemistry equipment that may be on offer, GE Healthcare operate a "Life Sciences Technology Laboratory" at the Stevenage Biocatalyst (SBC) where tenant companies can access the company's latest tools and technologies for such things as cell culture and analysis, protein purification and interaction studies, and bioprocessing research. Equipment includes AKTA Avant and Prime protein chromatography systems; Biacore T200 and 8K SPR (Surface Plasmon Resonance) systems; an IN Cell system for cell imaging and a fluorescence imager for gels.  Hence, the range of equipment available is tailored to the needs of the majority of the tenants of the SBC.
Availability of equpiment in this way may be a significant factor for a start-up when looking for a home or, indeed, when they look to move on hopefully to large premises.
The Equipment Project at Cambridge University provides similar support to external organisations by listing a number of facilities and individual items of equipment that may be suitable for use by industrial and commercial entities as well as by University staff and students. Equipment can be used unsupervised providing the appropriate training is in place, used with the supervision of a laboratory manager or technician, or again, external samples may be submitted for analysis and the results returned. Details of equipment are available via an internal database search engine (https://www.equipment-sharing.cam.ac.uk/home), with the majority being publicly searchable via the National Equipment Portal (http://equipment.data.ac.uk/).
It is a strategic aim of the University to encourage and ensure the use of shared facilities to support and facilitate greater collaboration and advancement of scientific research. Over 60 Small Research Facilities have been developed across the University that permit access to University staff and students as well as external clients who are interested in collaborating or who wish to use the services provided as part of their R&D strategy. These facilities, along with 3000 individual items of equipment, appear on the University's equipment sharing database that acts as a conduit to collaboration by providing up to date information on each item of equipment and the contact details of the laboratory and equipment manager.
---
Equipment Sharing: an Institutional Perspective
Christopher Wilkinson, Equipment Sharing Platform Manager, University of Cambridge. 
https://equipment.jiscinvolve.org/wp/2018/04/23/an-institutional-perspective-on-equipment-sharing/
April 23, 2018
I returned to the role of Equipment Sharing Project Manager at Cambridge in January this year. One thing I was keen to learn, was how the sector and the equipment sharing movement had moved on in this period. I began by reaching out to regional and national equipment sharing consortia and key individuals across the country. Equipment booking systems remain a hot-topic for all the universities contacted, and seen as a way of increasing efficiency and effectiveness whilst reducing the burden on local administration. Those that hadn't yet implemented systems were investigating the options available. This is an expanding market. Jisc produced a useful guide last year to a number of the products on the market for those wishing to learn about the options available. More solutions appear on an almost daily basis reflecting the growing interest in this area. In terms of collaborative successes, the Royce initiative – a strategic partnership between the universities of Manchester Sheffield, Leeds, Liverpool, Cambridge, Oxford and Imperial College London – is now bearing fruit with Royce equipment housed within the Maxwell Centre at Cambridge becoming operational in April last year.
On my return I was keen to action one of two surveys we administer on a local basis to contacts responsible for individual items of equipment on the Cambridge Database, and to our Small Research Facility managers. Engaging with our lab and facilities managers has been a really useful way of gaining a snapshot into the sharing activity at Cambridge. I've also gained feedback from users of the system as to how we can do things better. This user-centred focus is gaining momentum. The recent UKRI Infrastructure Roadmap Survey brought user consideration to the fore as well as seeking to understand how utilisation and capacity is measured and understood:
Does your Research and Innovation Infrastructure (RII) have a single access point for users?
What is the most appropriate way of estimating the number of users that your RII has?
What is the most appropriate timeframe for this (annual, since records began, or something else)?
Using this measure, approximately how many users does your RII have?
How do you measure the capacity of your RII?
What percentage of your RII's capacity is used?
What percentage of your RII's capacity do you aim to use?
It does seem as though the sector drivers are listening and are keen to understand how accurate, effective, and useful metrics can be developed. However, a consensus or definition of terms remains outstanding. One sector colleague observed: "Utilisation is a subjective term that can be interpreted in multiple ways, making direct comparison flawed. For example, booking a driving simulator for one week's use, requires a week allocated to set-up, a week of client use, and a subsequent week of data analysis; does utilisation cover the whole 3-week period or the actual time of client use?" In the case of some microscopes, current set-ups will have to be dismantled and the required configuration assembled and calibrated. The 'booked use' of the microscope by the client may then take place, before the set-up is again dismantled, reassembled and recalibrated. If the associated booking system is electronic and monitors 'actual' use – when the user logs on to perform the desired task – it may only record actual use not total use. Again, this reinforces the need for all of us in the sector, when assessing usage and capacity, to reach consensus on what constitutes the user, utilisation, and capacity. "If a local database informs a user that there are 137 HPLC systems available to them in their locality – is that useful? Or are they more interested in the highly specialised, bespoke, items of equipment?" I would suggest that the answer is likely to be a mixture of both. Considering all potential use cases and catering accordingly, rather than merely listing every item available, is the way the sector should be moving.
A user may want to know where an item of equipment is based within and outside of their institution. To them, the number of publications associated with specific equipment may be irrelevant; merely an example of technology driving development rather than responding to a user need. And on a practical level, the lead-times associated with publication means it's feasible an item of equipment may have become obsolete by the time publication occurs. However, for those involved in data acquisition and reporting – an often overlooked user base – publication tagging can be immensely useful in reporting impact for activities such as the REF. The Research Data Alliance's Persistent Identification of Instruments Group seeks to explore a community-driven solution for the globally unique identification of active instruments in the sciences, and this linked with publication tagging could provide a powerful tool for future data analytics. This is something the User Facilities and Publications Working Group are looking at under the ORCID banner. Laurel Haak has written a compelling article on using identifiers to capture and expose facilities use . An ORCID report, entitled Findings and Opportunities, summarises the discussions around ORCID increasing data capture and reducing the reporting burden for researchers.
Thinking about our users is central to the development of usable systems and exceptional user experiences.
So, are our users internal or external individuals, internal or external research groups, or commercial entities? Are they looking to find a short-term local solution to a mechanical failure, develop a long-term collaborative relationship, or do they merely have samples that require analysis. Are they involved in reporting activities at local, regional, or national levels? Are they funder-orientated, wish to submit research proposals, and do they want to increase the awareness of their equipment or facility? Thinking about and speaking to each of these groups individually to help elicit their unique needs and requirements will help us develop systems that add value at the coal face. Ultimately that focus could help deliver efficiencies to local and national institutions as well as the sector as a whole.